Off-plan Homes Consultancy
Benefit from expert advice to make the right decisions before buying a new "VEFA" apartment in Toulon area (Vente en l'état futur d'achèvement - Buying before construction).
Why consult with an interior designer before buying a VEFA?
VEFA is the French equivalent of off-plan home purchase. It means "Vente en l'État d'Achèvement", which means you purchase a house or apartment before it is built.
Usually, when you buy a new apartment under the French VEFA, the visuals shared by the developer are seducing and convincing, but it's a good idea to consult with an independent professional before moving forward with a purchase.
Because you are buying a flat / apartment off-plan, usually you have several options regarding the distribution of rooms, choice of materials, floor coverings, kitchen furniture and bathroom. Not having the opportunity to see these options during a visit can be frustrating.
You need advice, planning ideas and recommendations from an interior architect or interior decorator before buying a new apartment as part of a real estate program under the VEFA program.
Off-plan homes consultancy: how it works
First step: initial interview
An interior architect based in the Paris area meets with you and your real estate developer to have a look at the floor plan of your future accommodation purchased off-plan. The architect peruses the developer's documentation.
The architects collects your needs and information about your lifestyle to evaluate the suitability of the property in your situation.
The architect evaluates the potential of the new apartment (distribution and surface optimization) and quickly identifies what could be improved after construction.
The architect quickly shares ideas and tips to optimize your future apartment interior. Based on these recommendations, you know what to expect and what it will take to optimize your future VEFA apartment.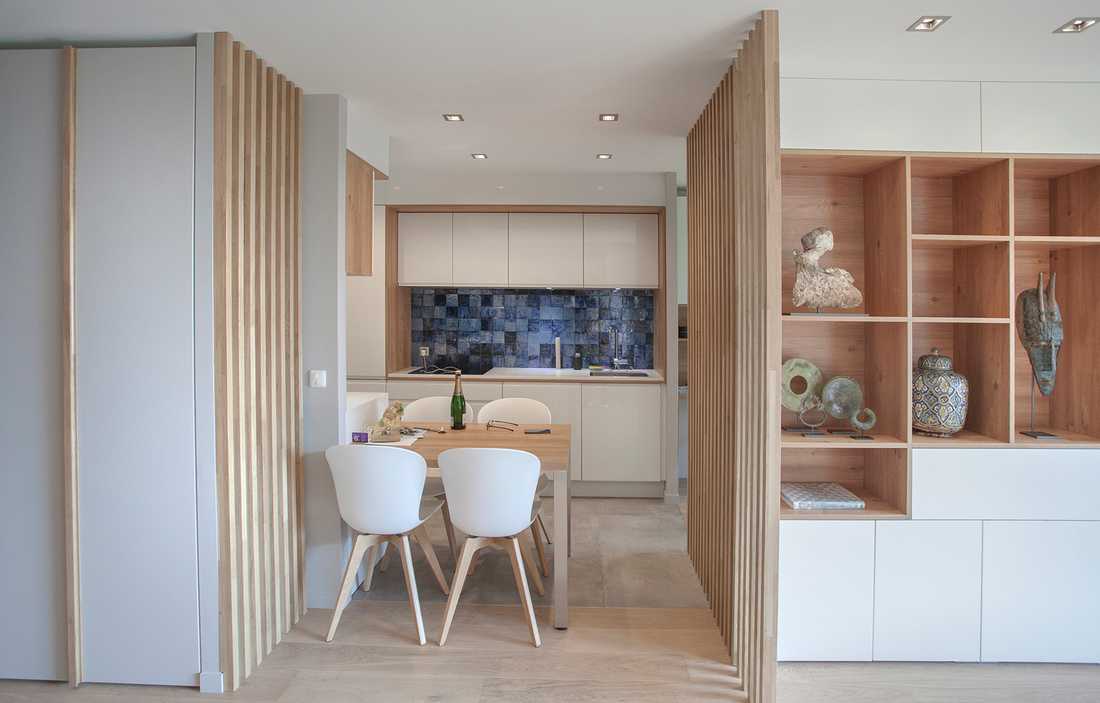 Second step: Implementation package
During an appointment at the seller's showroom, the architect or interior designer shares advice on all decisions that you will have to make: room distribution, location of partitions, electrical plan validation, materials, kitchen & bathroom configuration
According to your expectations and your current interiors, the designer can assess your furniture and decoration needs before you move in
When you get an interior designer's help before purchasing a VEFA, you can benefit from their professional discounts in the partner shops that have been selected for you.
Third step - Styling of your interior
If necessary, we can offer you more detailed specifications about your future apartment in VEFA before delivery. Produced by an interior architect or interior decorator, the specifications will provide layout plans (kitchen, bathroom, furniture) that will allow you to give a personal touch to your VEFA home shortly after you move in.
After your new apartment has been delivered, we help you furnishing it and setting up decorative objects to make it your own.
Fees for off-plan homes consultancy VAT ex.
1st step - One or more interview
 

80 € / hour
(refunded if you decide to move forward to the next step)

2nd step - Specifications of your remodeling interior design project (by tier)

Surface ⩽ 40 m²
From 70€ / m²
Between 41 and 80 m²
60 € / m²
Between 81 and 120 m²
50 € / m²
Between 121 and 240 m²
40 € / m²
Surface ⩾ 241 m²
On quotation
3rd step - Supervision and coordination of the interior remodeling execution work (by tier)
| | |
| --- | --- |
| Less than 100 000 € of works | 9 % of the works amount |
| Between 100 000 € and 200 000 € | 8 % of the works amount |
| More than 200 000 € | 7 % of quotes |
You are free to work with us for only one or several step.